I'm busy working on my blog posts. Watch this space!
Please reload
With the first snow of the season behind us, it is time to look to the future.  With road conditions changing rapidly, it is important to prepare yourself and your vehicle.  Here are some tips to help keep you, your family, and your vehicle safe.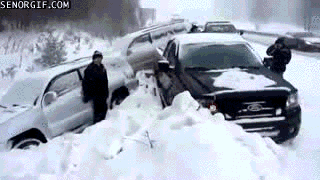 Always make sure your vehicle is in peak operating condition.  If you know you will be driving in heavy snow or ice, sometimes lowering your tire pressure will give you more traction.
Wherever you go, try to take your mobile phone with you in case of emergencies.  It is also is a good idea to keep a blanket, extra gloves, hats and even food in the trunk of your vehicle.
Try to keep your gas tank at least half-full.  This will ensure you don't run out of gas while you're driving, and if you get stuck in the snow, you have enough gas to dig yourself out and get home.  It also helps reduce condensation from building up and possibly freezing your fuel lines.
Make sure to change your windshield wiper blades around this time of the year.  There is nothing more dangerous than driving with road slush on your windshield that you cannot clean off.  This reduces visibility and can lead to a dangerous collision.  
While driving in the snow or ice, accelerate and decelerate slowly.  This aids in regaining traction and helps avoid skidding.
Drive slower.  On snow-covered roads, accelerating, stopping, turning - it won't happen as quickly as it does on dry pavement.  Give yourself time to maneuver by driving slowly.
Stay home!  If there is snow or ice on the road, try to plan ahead and get the things you need so that you don't have to travel.  This not only helps aid in your safety, but also the safety of others by keeping the roads as clear as possible so road crews and plows can do their jobs.
If you have any of your own tips, please comment them below and make sure to share this with your friends, colleagues and family.
Please reload